How Do I Check Tire Tread Depth?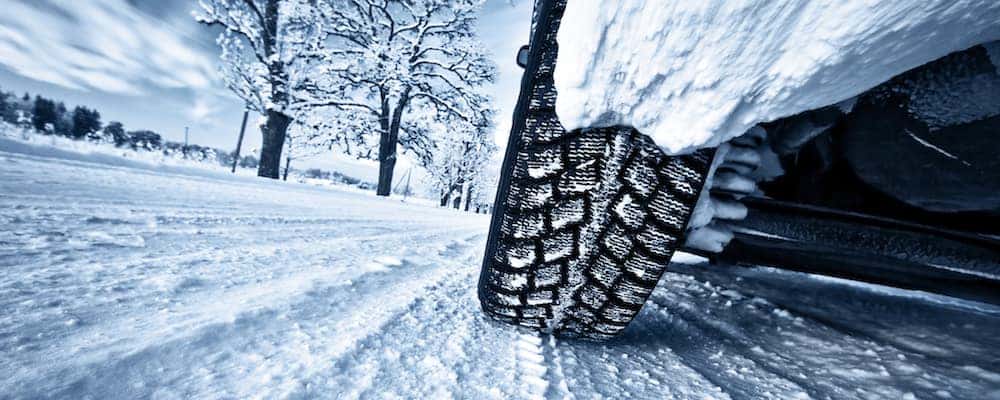 If you're wondering to yourself, "How do I check tire tread wear?" don't worry–Garavel CJDR has the answers. All you need is a ruler or penny, and you can check your tire tread depth at home in Greenwich! Follow the steps below, and explore our tire care FAQ's to learn more.
What is the Recommended Tire Tread Depth?
New tires have a tread depth of about 10/32 or 11/32 of an inch (about a third of an inch). Winter tires and tires designed for off-roading, as well as some truck and SUV tires may have even deeper tread grooves.
At 2/32 of an inch, it's time to replace your tires according to the U.S. Department of Transportation. Proper tire tread depth is essential to safe driving in Stamford, and proper tire care can even extend to life of your tires.
The Penny Test
A ruler is the most accurate way to check tire tread depth, but if you can't find a ruler in your house—or you are on-the-go and you want to check your tires—a penny will do in a pinch. The design on the U.S. penny makes it the perfect household tool to measure your tire wear. Follow these steps to check the tread depth remaining on your tires.
Insert a penny with Lincoln's head face first into a tire tread groove.
Observe if Lincoln's head is covered and no longer visible between the grooves.
If you can see all of Lincoln's face, that means your tire treads are 2/32 inches deep or less and it's time to replace them.
Repeat this process on all four tires and in multiple locations on each tire.
More Ways to Check Tire Health
There are special tools available in Bridgeport to check your tires, such as a tire tread depth gauge, or tread wear bars that have a visible mark built into the tire which indicates the 2/32 inch mark. While you are checking your tire tread depth, some more things inspect include:
Tire pressure
Any visible tire damage
Tire rot or disintegration
Wheel alignment
Maintain Your Tires at Garavel CJDR
When you take your vehicle to your local service center for regular maintenance, the technicians will inspect your tires for any issues or wear. When it's time to replace your tires, visit our tire center, and be sure to check our parts and service specials to get a great deal! For more guides like this, learn how to reset your Ram 1500's check engine light!
More From Garavel CJDR
When it comes to packing all the power and efficiency that you need for your Stamford jobs, the RAM 1500 EcoDiesel has you covered. The EcoDiesel available in the RAM 1500 comes with the specs and performance features that allow you to tackle just about anything that you need, whether it's towing strength or…

The all-new 2021 Jeep Gladiator combines the utility of a truck with the off-road prowess of the Jeep, resulting in one unforgettable ride. View InventoryContact Us But, how much is the Jeep Gladiator? The Jeep Gladiator MSRP starts at just $34,040, and that's just the beginning. There are nine different trim levels to explore:…

If you're getting ready to shop for your next Jeep around Bridgeport, you might wonder what colors does the Jeep Grand Cherokee come in. For the 2021 model year, there are a whopping 12 different Jeep Grand Cherokee color options available to suit any sense of style. Check out the interior and exterior hues…