Affordable Jeep Wrangler Upgrades For Off-Road Adventures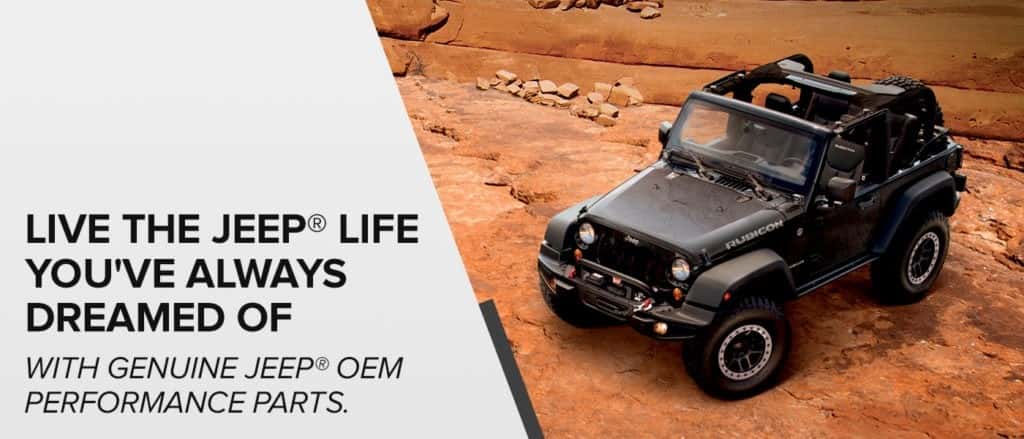 You set your mind on the prize and now you have it. You're the proud new owner of a Jeep Wrangler. Whether it's brand spankin' new, or "new to you", this is a very exciting time, full of possibilities and off-roading dreams. First things first, you need to be sure your Jeep wave becomes second nature, so you can greet fellow Jeep owners with a smile and a familiar signal, whether you're cruising through Norwalk, or commuting on the I-95. Did you ever realize how many Jeeps there were on the road before?
Next up, you'll probably want to take steps toward living that Jeep life you've been dreaming of. Perhaps you didn't plan for costs to take your Jeep from stock to off-road ready, OR you're overwhelmed by all the possibilities. We'd love to help you get started with a list of 10 affordable modifications you can make to your Jeep Wrangler without breaking the bank — and it's easy to save on long-term car with Mopar Vehicle Protection.
Rock Rails – Jeep Performance Parts Rock Rails are constructed of Heavy Gauge Steel to take on the toughest trails. These Rock Rails are fully functional and provide rocker panel and lower body-side protection.
Floor Liners – While no one buys a new Jeep to be a parking lot princess, the thought of tracking mud and rocks onto their brand new Jeep carpet isn't very attractive either. Floor liners help protect your investment by keeping water, sand, mud and dirt off your carpet.
Safety and Health Kits – The Roadside First Aid Kit is equipped with the basic items needed to assist you in those unexpected travel emergencies. Items are contained in a durable canvas carrying bag that has extra room for stocking additional supplies. This kit also includes a tow strap and a pair of gloves. A must have for active families on the go.
Skid Plates – Skid Plates provide protection to vital vehicle components such as your engine, transmission, and drive line when traveling off road.
Winch – When the trails run a little too deep for your jeep and you need some help getting out. you'll be thankful you installed a winch.
Half Doors – Experience the freedom of the open road while still being fully 50 state legal with half door and mirrors.
Spare Tire Carriers – Anytime you venture off-road, you run the risk of picking up a flat tire, and when you do, you'll be thankful your spare tire is in good working order thanks to your spare tire carrier.
Interior Security/Storage – Keep your valuables out of sight and secure by locking them in secure storage compartments.
Grab Handles – For added Jeep safety when getting in and out of your vehicle, be sure to purchase grab handles.
Splash Guards – Molded to the contours of the vehicle for a custom fit, splash guards provide excellent lower body protection and feature vehicle logo to accent the vehicle styling.
Contact our Parts Department for OEM parts, performance parts, and accessories for your Jeep to make sure it's customized to your heart's desire.